Which one should you be using for your business?
So, you finally decided to move on and conquer the Japanese market for your business?
That's great!
Japanese consumers tend to have a high purchasing power and will pay the price if your product/service is good enough.
Also to be known, if your product is successful in Japan, you will have a higher chance to be popular in other markets from East Asia as the country is seen as a trusted trial by others.
Good right?
Problem is, competition is fierce and you will need to be as close as possible to your final client.
Being everywhere can be a waste of time and effort, you need to focus most of your efforts on the social networks where your customers like to be.
If you're targeting a senior audience, chances are that they will not be on TikTok…
If you just want to know what are the popular social networks in Japan, here they are!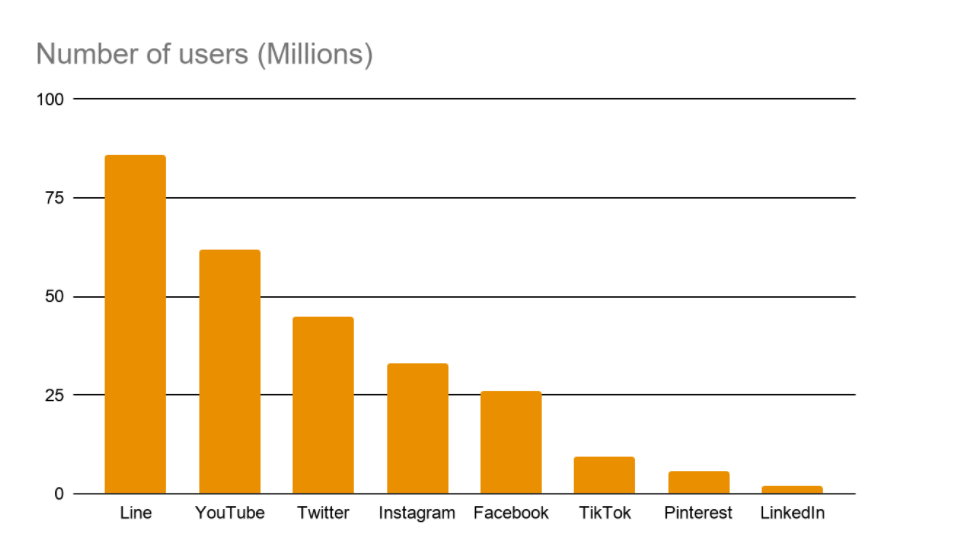 So should everyone be on Line? Probably not.
Each business needs to be on the platform where its target is but not only…
Social media in Japan: Line
Line, the most used VOIP app in Japan.
Almost half of the population uses it.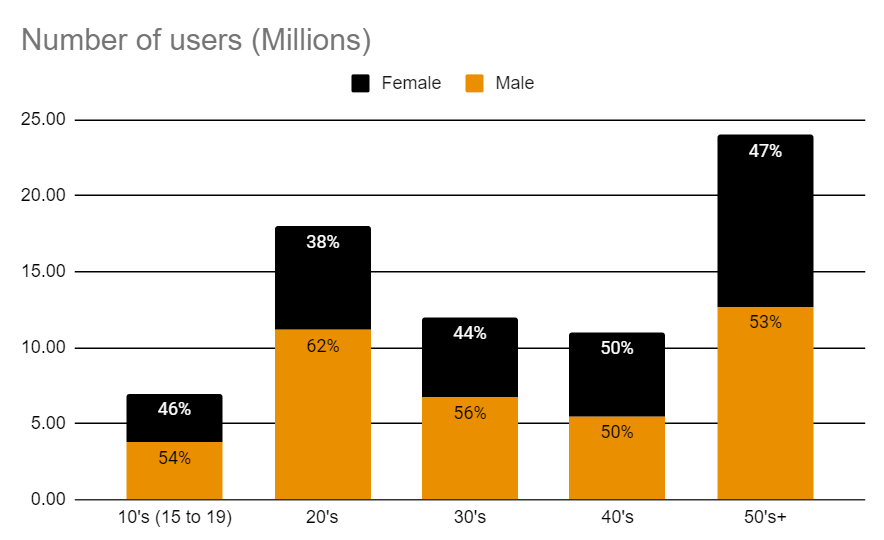 "Ok Krows Digital, obviously we should be promoting our business on Line right? We can target everyone, that's amazing!"
Well, as we said earlier, Line is a messaging app more than a social network, it means that you can publish posts, like,s and comments but most people will only talk with their friends.
Who should use Line?
You should use Line if:
your target audience is:
your customers can contact you directly through Line (you can create a Business account) for:

support
questions
additional services

you need more Brand Awareness than proper conversions.
What we mean with this last point is that Line would be a good platform to keep your brand in front of a large audience but it will not be the best platform to use advertisement as conversions (a visitor doing something valuable like purchasing your product on your website or contacting you) will be limited and hard to track.
If your brand is one that uses visuals heavily, you can use them on Line but people are not on the platform for the WOW effect.
Social media in Japan: YouTube
Who doesn't know YouTube? For a long time, it seems that Japanese people didn't!
The Japanese audience has a strong interest in the platform, especially for learning content, but only for the last few years.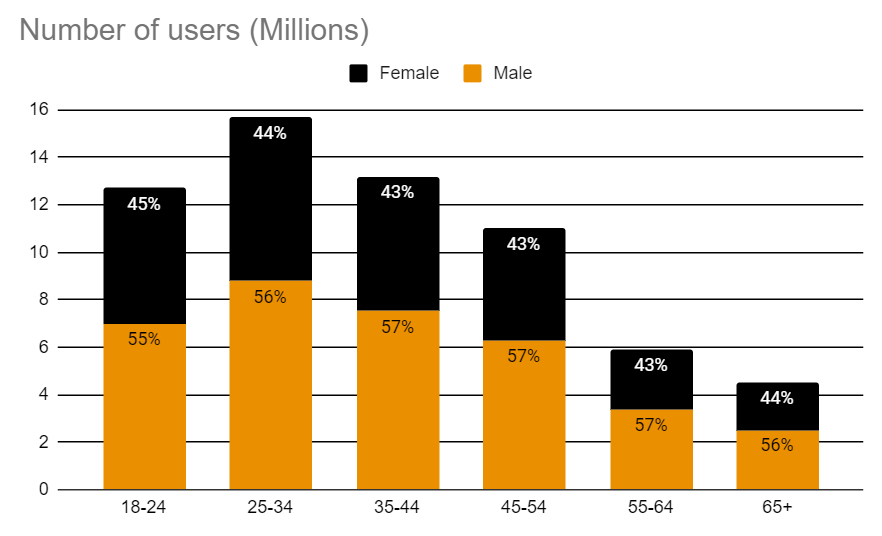 Source: InstaLab
As you can see the main audience for YouTube is around 20-30 years old.
A great platform to aim at a young active audience.
Who should use YouTube?
There are 2 different ways to use YouTube for your business:
Create a YouTube channel.
You can create a channel where you will be able to upload videos explaining your concept or showing your values.
Many things are possible and it is up to you to provide the best content that will get enough engagement (likes, comments, shares) to allow your brand to be visible to the largest audience.
The main problem for a brand that wants to grow a channel is that you will need:
– to come up with highly relevant videos for your audience (answering questions, funny, discovery…)
– keep engaging with your audience
– upload videos on a regular basis
This last point is certainly the one that will keep many brands away from creating a YouTube channel!
To grow organically on the platform, it is not enough to just post one outstanding video and do nothing for weeks/months…
You will need to have a plan for releasing videos and try to respect it the best you can.
Nevertheless, if you succeed in growing a YouTube channel, you will certainly have the best existing tool online to get people in front of your business!
So think about it!
Best suited for:
answering questions your audience may have
entertaining potential customers
explaining concepts surrounding your business/market
brands that focus on photography, gaming, learning, or any visually-oriented content
Promote on YouTube with advertising
We will not go here in detail about the different types of ads but pretty much, the real interest here is:
to use visually appealing (banners or videos) ads
to target the audience that is the most interesting in your brand
to get visitors (to your website or others) without requiring a large YouTube channel
to have control over your cost per conversion!
Using ads can be more expensive than developing a YouTube channel but it gives you more control and a faster return on investment compared to a YouTube channel that can take months or years to grow!
For many brands, YouTube is one of the best platforms to use but you need to figure out if it is better to grow a channel or to promote through ads.
Social media in Japan: Twitter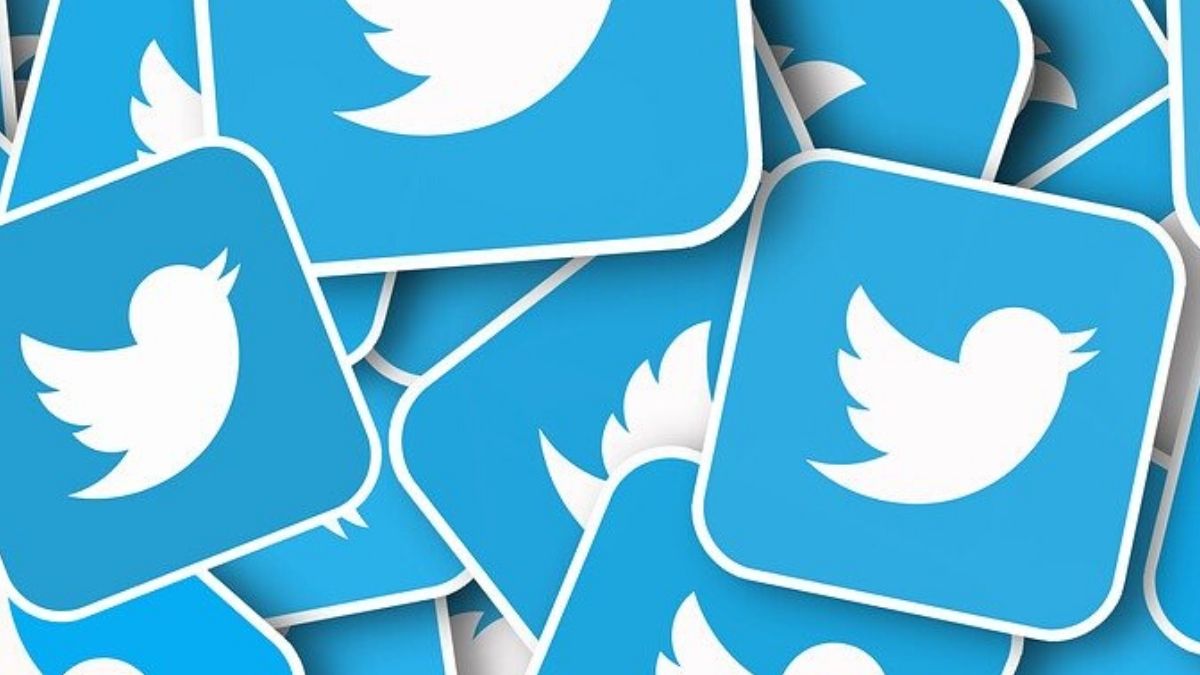 Ahh, Twitter in Japan. Quite an interesting platform!
As you have seen before, Twitter is the 3rd social network in Japan at the moment.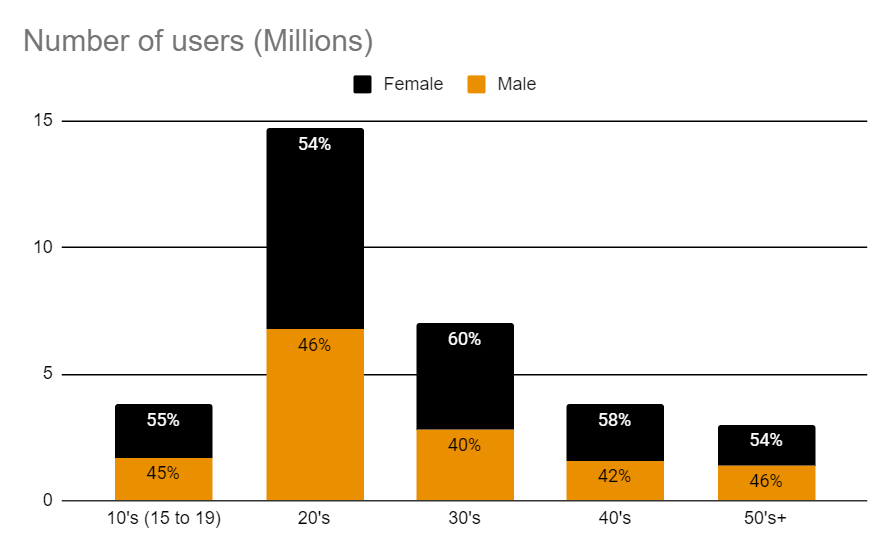 Source: InstaLab
One big reason for this: anonymity
As you might know, Japanese society works as a collective group and not on individuals.
Sharing your opinion about politics or others is not a common thing.
Twitter allows Japanese people to share their opinion anonymously.
What is the use of Twitter in Japan?
Share opinion
Read the news and react to it
Mix with people of the same opinion
Search for a job (seems logical if you think that job seekers don't want to show they are looking for a new job…)
Who should use Twitter?
It can be a tough job to make good use of Twitter, growing a community around your brand requires as much dedication (even more!) than building a YouTube channel!
Popular Twitter accounts share info at least 2 or 3 times… a day.
The alternative (or addition) would be to use Twitter Advertising.
Promote special hashtags or focus on specific categories.
The user profile is mostly around 20 to 30 years old.
The platform is good for:
political
career
info related to trends
illustrators and overall visual businesses (an interesting point is the number of Japanese illustrators sharing their work on Twitter and not on Instagram!)
Do you have an opinion to share or want to target a specific audience with an idea? Twitter is for you.
Social media in Japan: Instagram
The most visual social network is well represented in Japan too!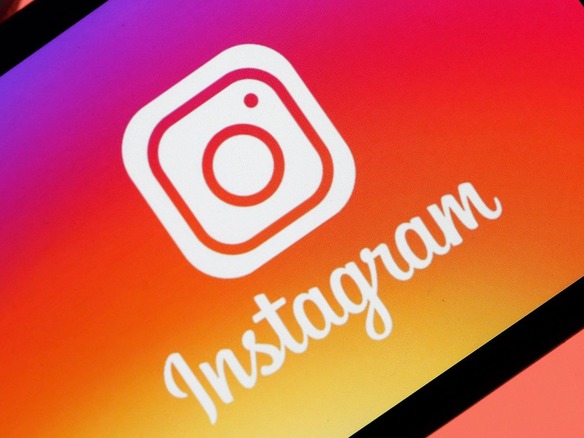 4th in rank in Japan, this social media is one of the best to use if you are targeting a younger audience or need to present your brand creativeness.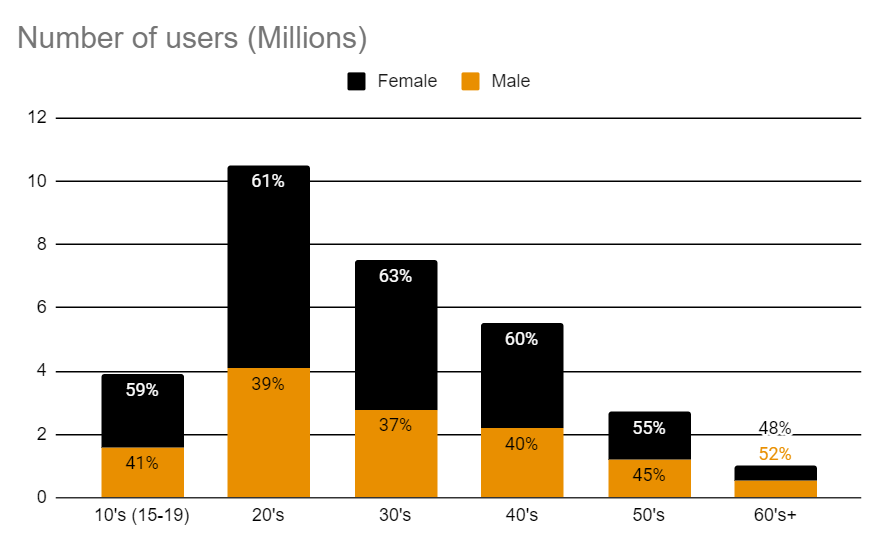 Source: InstaLab
An interesting point to notice here also is the high number of women on Instagram compared to other platforms.
What is the use of Instagram in Japan?
Messaging app
Share lifestyle
Discover creative/entertaining content
Livestream
Who should use Instagram?
Anyone targeting a young audience or possessing beautiful/original/inspiring content should be on the platform.
It can be hard to grow on the platform but with some known techniques it can be done more easily than on other platforms.
Also, you can use Facebook Business Manager to get your ads or Instagram account in front of the right audience using the right interests, age range, etc.
Krows Digital tip: this year, focus most of your marketing efforts on Reels, they have way more reach than regular posts!
Social media in Japan: Facebook
Once a giant, Facebook is still increasing but at a slower pace than others. Yet, it is still the 5th more used social network in Japan.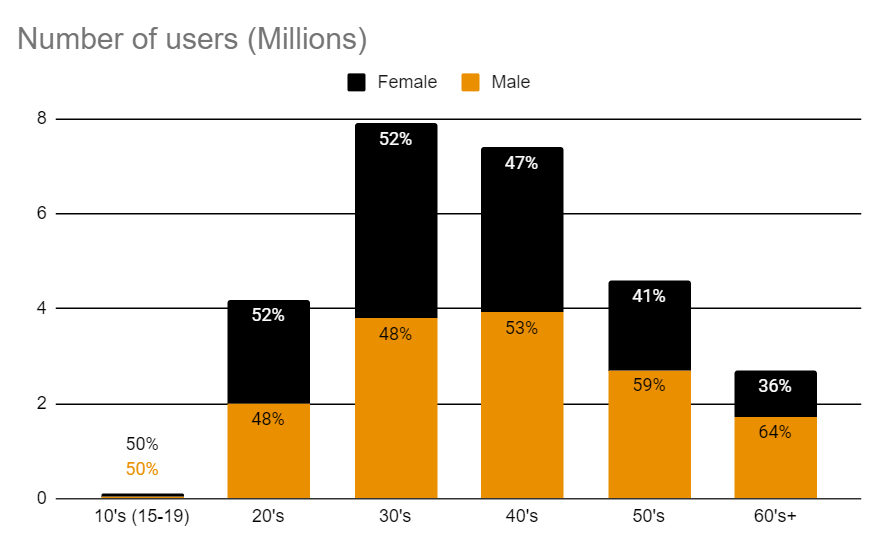 Source: InstaLab
As you can see on this graphic sourced from InstaLab, the younger audience is running away from Facebook and going straight to Instagram and TikTok…
Some reasons for this are:
lack of privacy
parents are also on the platform…
can't create your own character (on Facebook you present yourself as… yourself, on Instagram you choose a nickname and share your vision)
Nonetheless, people over 30's are still well represented on the platform.
What is the use of Facebook in Japan?
Share pictures of your 2 dogs. Kidding… a bit.
Keep in contact with your siblings and surrounding
Read comments and react to news
Join groups of similar interests
Find old friends etc.
Who should use Facebook?
Pretty much any company looking for brand awareness!
The platform is mainstream enough to have people interested in your business, whatever it is.
Yet, it is still better for brands looking to target senior audiences.
Important notice: like many other social networks in 2022, it is almost impossible to grow on Facebook without promoting with ads your content.
Using 20 hashtags per post is useless, stop doing it, it looks unprofessional…
If you want to grow on Facebook, you need advertising.
Social media in Japan: TikTok
What is the use of TikTok in Japan?
TikTok is the new top player in town, it is a video-only platform especially targeting a young audience who is seeking content that is:
entertaining
trending
a meme potential
short length
Who should use TikTok?
Any brand, focusing on B2C and on a Japanese younger audience should use TikTok.
The platform is also great for cheaper advertising (compared to Instagram Ads for example), and cheaper influencers (again, compared to Instagram…) but with great reach opportunities.
Nonetheless, be aware that to succeed on TikTok you will need to create trending content which can be quite hard to create. (of course, we can help you!)
Conclusion
Social media in Japan follow what we can see in other countries, yet, you should pay extra attention to your tone of voice when using one or another social media.
TikTok is, yet again, the fastest increasing social media in Japan and if you are looking for one great platform to promote your B2C brand, keep an eye on this one.
For B2B businesses, Twitter, Line, and Facebook are still valuable social networks for you!
As always, if you need support with your marketing strategy in Japan, you can have a look at our different services or contact us directly if you are already convinced Krows Digital can help you!