Dear reader, you came here to find more information about advertising in Japan, to check what is trending or not, or you got lost!
Worry not, you came to the right place. The marketing scene in Japan is changing a lot and it is interesting to keep an eye on the upcoming trends.
Fact is, just like in many other countries, the influence of the Internet on Japanese society is getting bigger in recent years.
In 2019, the online advertising expenditures in Japan exceeded that of TV advertising for the first time.
Let's have a deeper look at what's happening in Japan!
Comparison of Online and TV advertising expenditures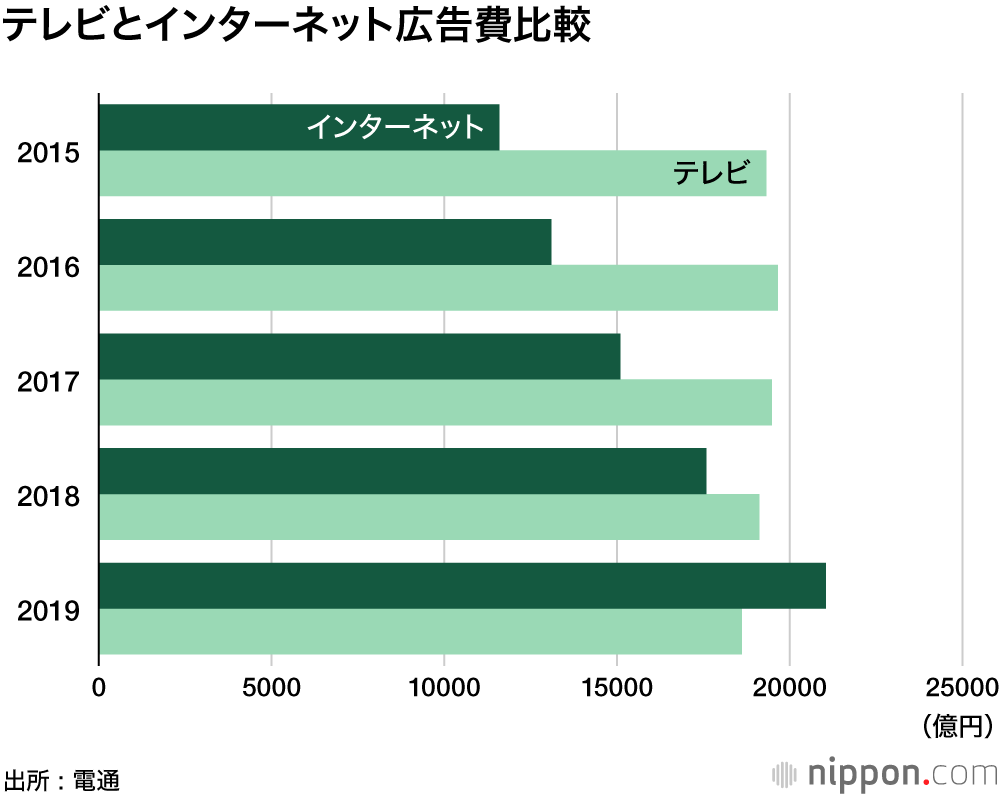 It makes sense for advertisers to move away from television as Japanese spectators watch it less.
Recently, a lot of Japanese TV shows are available on online streaming platforms. Compared to traditional TV, people can enjoy their shows at any time with no limitation on time and availability. It is then important for businesses to build a strong online presence as well as the traditional program rating.
In this article, we will break down advertising in Japan into 3 categories, and see how they are evolving, thanks to the influence of the Internet and technology.
Types of Media in Japan
Traditional media
Advertising on traditional media like TV, radio, magazines, and newspaper are still huge in Japan. As much as 2,253.6 billion yen was spent on advertising on traditional media in 2020, which accounted for 36.6% of the total domestic advertising costs. (https://dentsu-ho.com/articles/7694) However, spending on traditional media has been decreasing for the last 6 years, while the influence of digital media is getting stronger each year.
In recent years, iconic cute dance movements with expressive hand gestures are often used in TV commercials targeting the younger audience, which seems to reflect the recent trend in TikTok dance.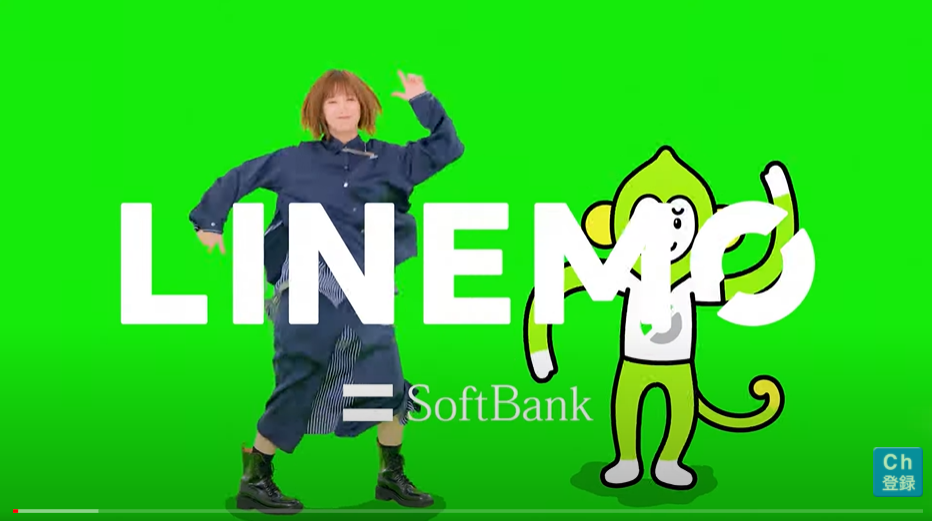 If you prefer talking to an older audience, an infomercial is one of the effective ways to promote your brand. An infomercial is a longer form of a TV commercial that looks like a regular TV show but is designed to educate the customer about a product or service. The style of infomercials in Japan is based on the form of American shopping programs, and they are often seen during breakfast shows and lunchtime shows.
Promotional media
Promotional media includes various types of advertisements such as outdoor ads, transit ads, direct mail, catalogs, and leaflets.
In a metropolitan city like Tokyo, you can reach tens of millions of people every day by placing ads on public transportation. Although transitional posters and billboards are still popular, digital ads are getting more attention and impact in recent years.
For example, when you get on a train in Tokyo, you will see a display over the train doors, which often shows information such as the destinations, the latest news, and weather forecasts, but you will also notice that there are sponsored ads in between.
If you get thirsty at a train station in Tokyo, an intelligent vending machine with a touch screen and a camera will welcome you and offer you some recommendations on drinks based on weather, time of the day, and your appearance. We can say this is one form of digital signage ads, and this new system increased sales by 40% compared to the traditional vending machines.
Online media
Today in Japan, Internet ads are as huge as the ones for traditional mass media like TV. In Japan, advertising expenditures for online media cost 2,229 billion yen in 2020. An increase of 5.9% from the previous year. (https://dentsu-ho.com/articles/7694)
People in Japan are spending more time on the Internet watching video content and browsing social media, which is bringing rapid growth in video ads and social media ads.
Evidently, the new stay-at-home economy is accelerating this trend even further.
As the Internet becomes the mainstream media, influencers are gaining more power. A few years ago, there was a clear separation between influencers (Internet celebrities) and TV celebrities, but today it is quite common to see YouTubers and TikTokers get cast on Japanese TV shows to attract younger generations.

This is an official video by the Tokyo Metropolitan Government, where a popular YouTuber/celebrity interviews Governor of Tokyo to increase awareness of infectious disease prevention. (https://youtu.be/d8yl-XCxiK8)
Additionally, ad spending, on merchandise-related EC (e-commerce) platforms, is also on the rise. EC platforms have been gaining in popularity in the past few years, and the pandemic has boosted up its growth. Online shopping is now essential for many people in Japan, and ad costs on EC platforms will surely continue to rise.
Future of Media in Japan
Ready to advertise?
Now you should have a better understanding of advertising trends in Japan. All in all, the impact of Internet ads in Japan is getting stronger each year, and the trend will continue this year and beyond.
A graph showing the change in advertising spending on TV (khaki), Internet (green), newspaper (orange), magazines (yellow), and radio (blue):
With the spread of the 5G network, people will be able to access the Internet faster and enjoy video content more comfortably, which would lead to further growth in video ads.
Additionally, technology to collect consumer information online will continue to advance and will help companies improve the effectiveness of their online ads. Let's see if the new standard after the pandemic will give a further impact on our lifestyle and marketing trends.
Thanks for reading! Don't forget: you can learn more about the different marketing trends in Japan by subscribing to our newsletter, and more articles for free!
You can also have an access to our past articles or contact us if you need help with promoting your business in Japan.