Dear Twitch streamers (and you too YouTube Live & Mixer streamers) we love you. You are the content creators of the 2020s.
As we actually receive more and more emails on how to grow on Twitch, we decided to write a guide!
We will present you the best ways to grow organically (meaning without using any paid advertisement) your Twitch channel.
What this guide is not!
Be aware that growing a channel from 0 to Affiliate and then to Partner is a long and hard road. Only a few become Partners and can seriously think about living from their stream incomes.
We will give you the best ways to grow but there is no cheap trick or shortcut. It will take time and you need to be serious about it.
If you are, let's start!
Why you can not grow from Twitch only
Sad to say but Twitch is not a platform focused on helping small streamers to grow. It focuses only on top streamers like Dr. DisRespect, Anomaly, or Pokimane.
Why?
Because they bring money to the platform. As simple as that. A high following audience means more ad revenue for both the streamer and Twitch. And I'm not even talking about the subscriptions yet…
If you are on Twitch, you certainly know that the main way to look for content is by browsing content. By default, Twitch suggests a higher to lower sorting.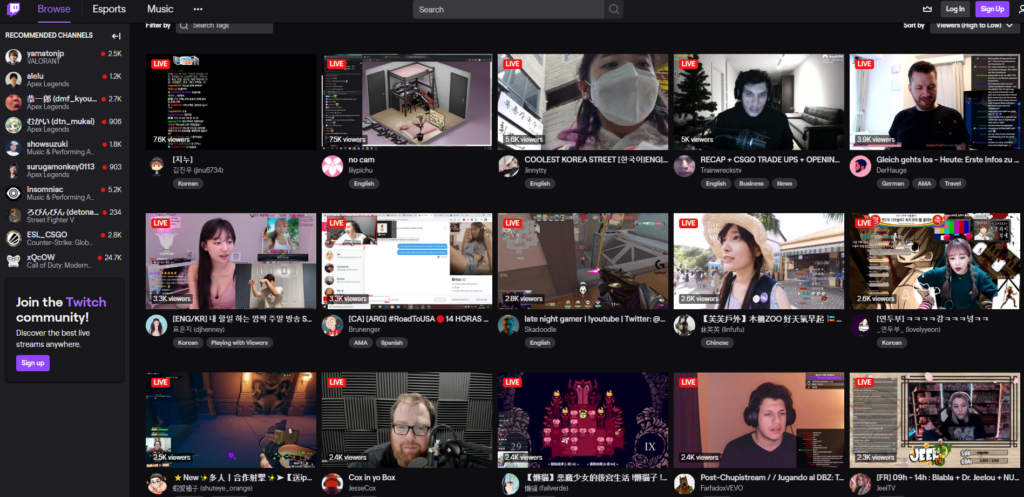 As you can see, the streamers with the highest number of viewers are on top of the page while the lowest ones are not even visible…
Of course, you can say that now Twitch added the "Sort By: Recommended For You" but it is quite random and you should not expect too much from it to grow.
You might get random followers here and there but this is not an optimal strategy to grow your Twitch channel.
Let's see what you can do to become a professional streamer!
Improve the look of your stream!
Let's be honest here, would you follow a streamer with a crappy video or audio quality? No, you will not. So, don't expect others to have pity on your poor-looking stream!
The most important thing you need at the moment is certainly a good webcam with, at least 720p 60FPS and a decent mic as, most of the time, the mic from your cam or headset will have a poor recording.
Remember that many people will "not really" watch your stream. They might do something on the side while listening to your stream so don't mess up with sound!
If you need more info on the best hardware for your stream, I invite you to follow Alphagaming on YouTube, he has great advice regarding stream overall look!
Lazy to watch? We recommend you these:
Webcams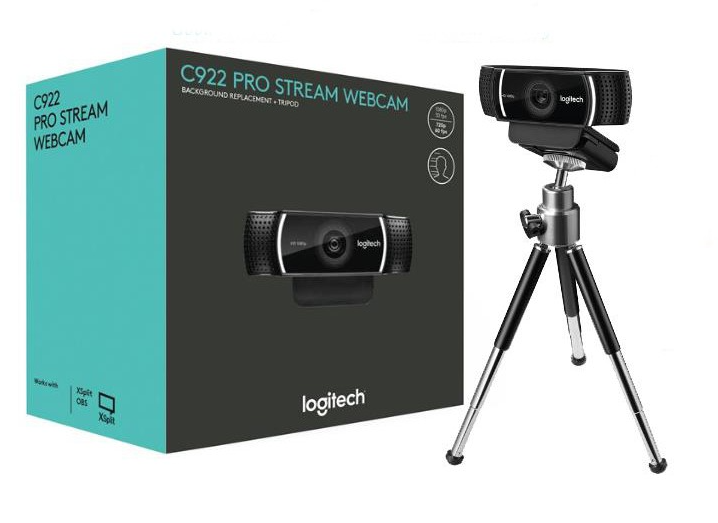 Logitech C922 Pro – 1080p at 30FPS or 720p at 60FPS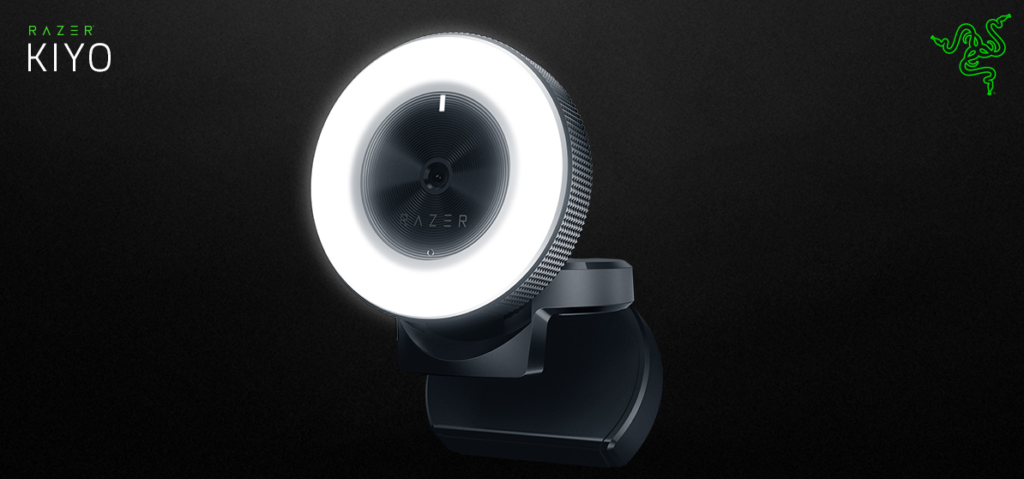 Razer Kiyo Streaming Webcam: 1080p 30FPS or 720p at 60FPS
Mic for streaming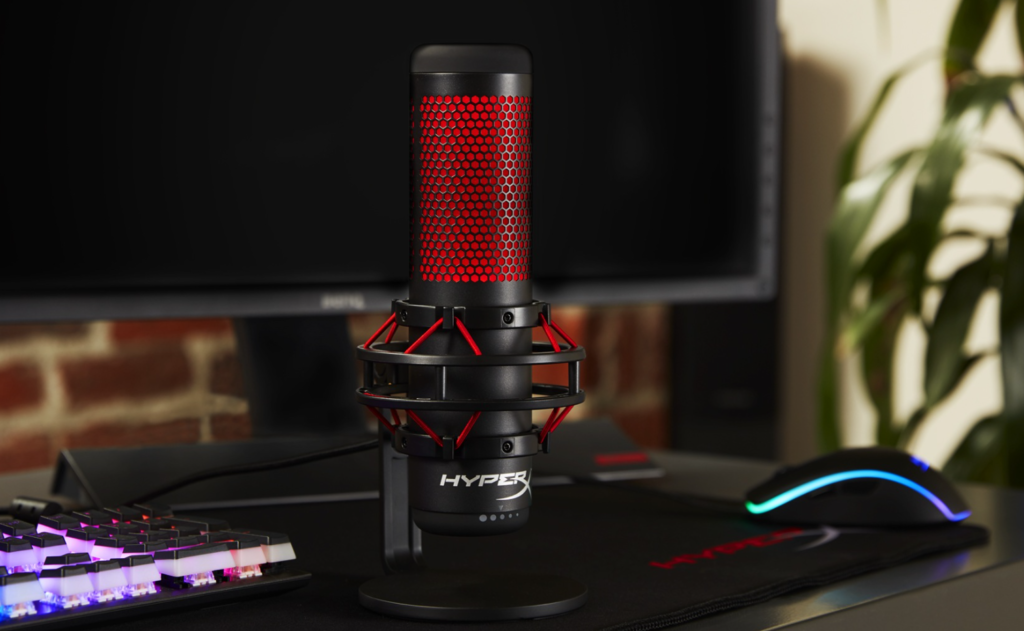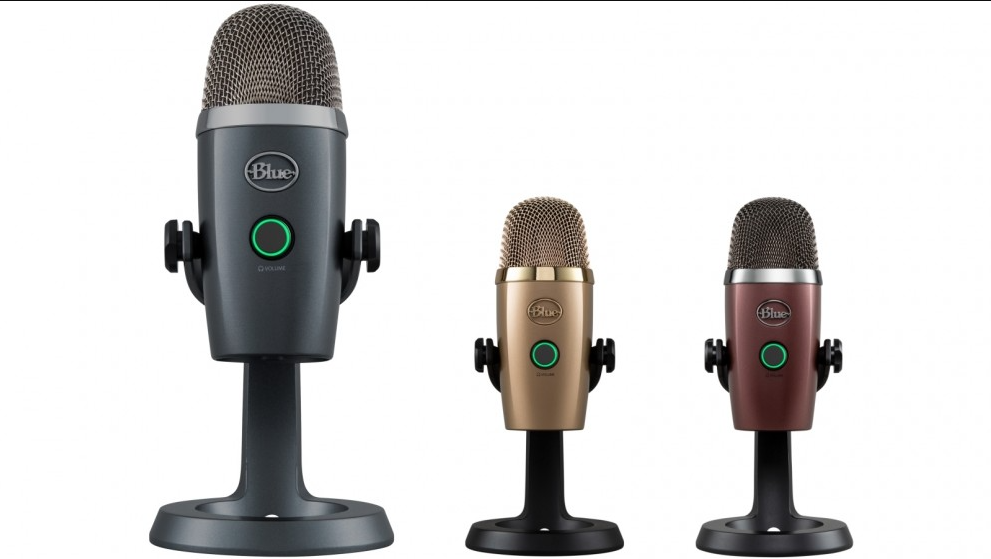 We don't put prices as they tend to be highly fluctuating these days so search carefully, compare and get the best deals!
Now let's go to overlays and banners.
Overlays & Banners
We are still not promoting your channel elsewhere. What you need, first, it is to brand your channel. Let's see some top streamers' Info section & in-stream overlays: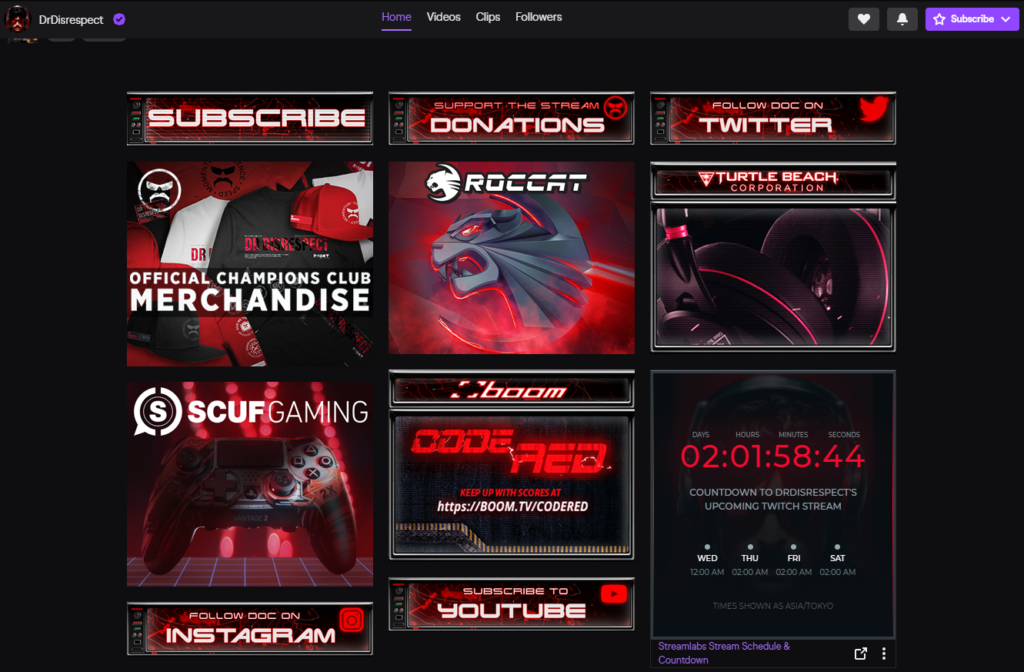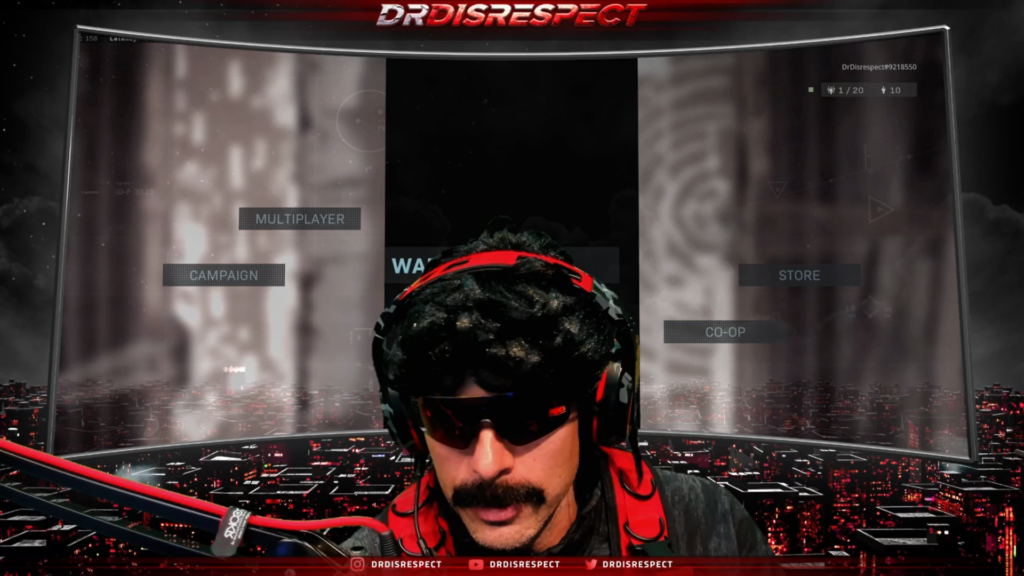 Do you see the pattern here? It's easy to recognize the Doc's channel by the red color and aggressive-looking design. A design fitting his burning temper…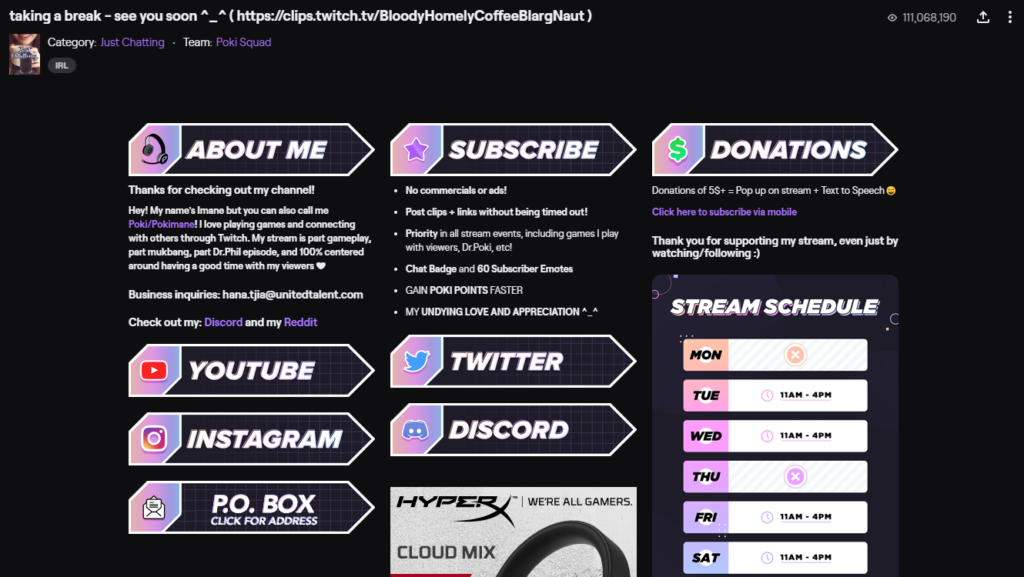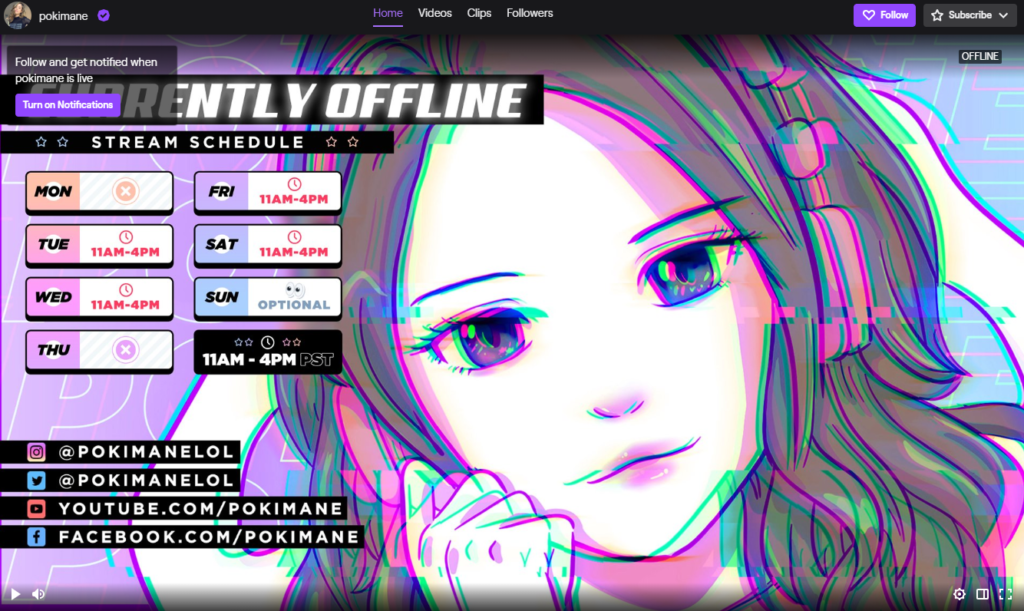 You get the idea, have an idea, a color set, or a style that you like, and keep it! Too many small streamers try 1000 designs that they think look great but together it looks messed up…
For your overlays and banners, we suggest 2 places:
Canva.com

You don't have Photoshop to do outstanding designs? No problem! You can do your designs with Canva. This platform lets you work your magic on multiple designs for free. You will only see some limitations like designs exclusive to people using Canva Pro but most of the options are good enough to create nice banners and overlays.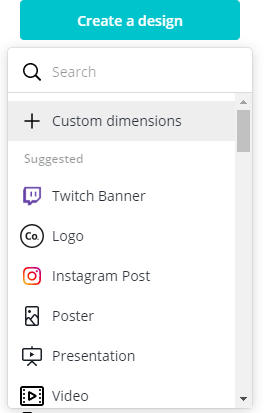 Just click on "Create a design" (after sign-in of course) to select your type of design or to choose custom dimensions.
(we might do a video one of these days…)
This is certainly the best option if you have no money to spend.
PlaceIt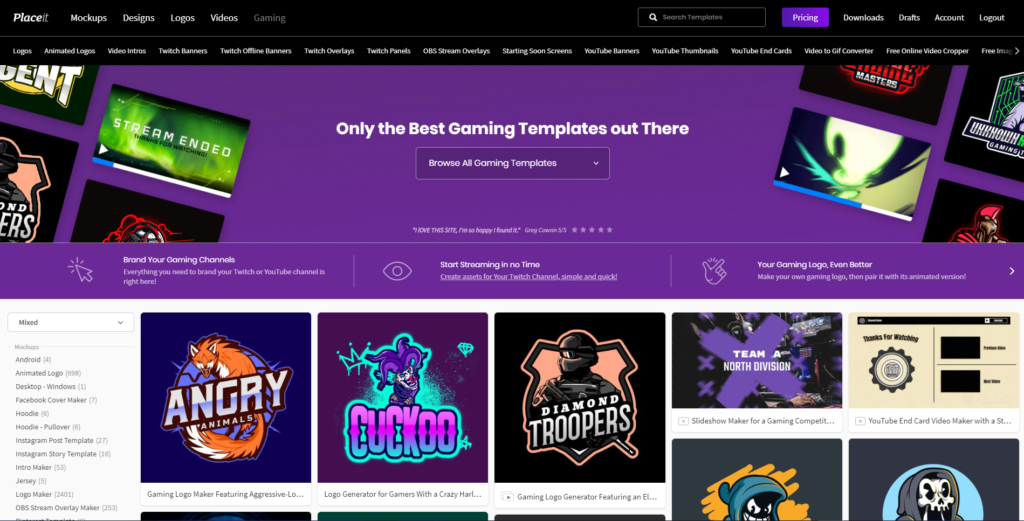 Placeit is probably the best place to do your banners and overlays but also videos! In fact, you can create intro or outro videos, wait for screens if you are AFK, etc.
A lot of options here but, compared to Canva, you will have to pay here.
Nonetheless, compared to hiring a designer on Fiverr, this is certainly cheaper and your banners and overlays will fit better together as they were made by you from the same platform!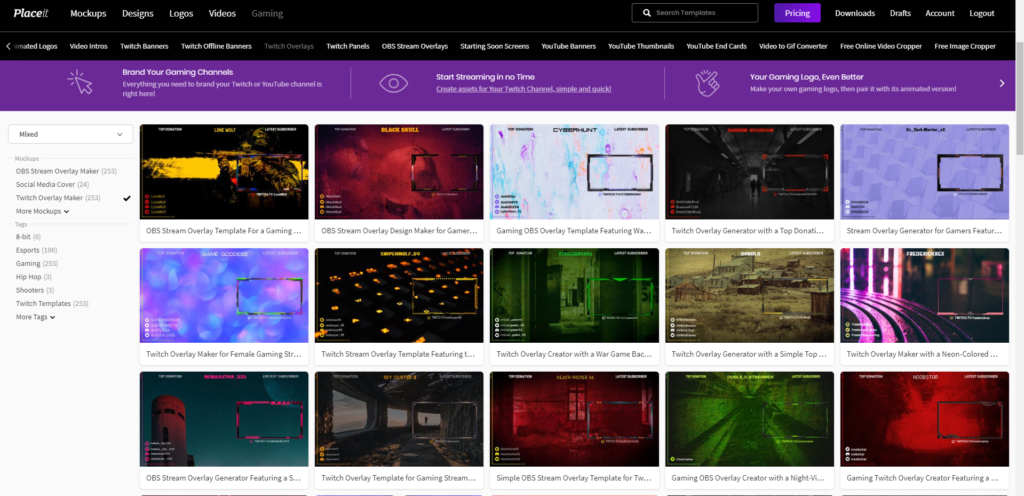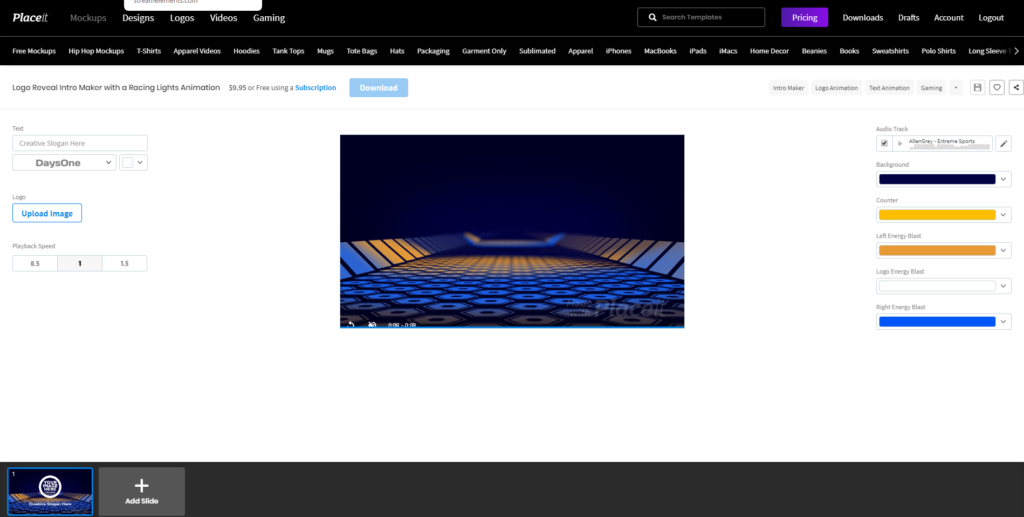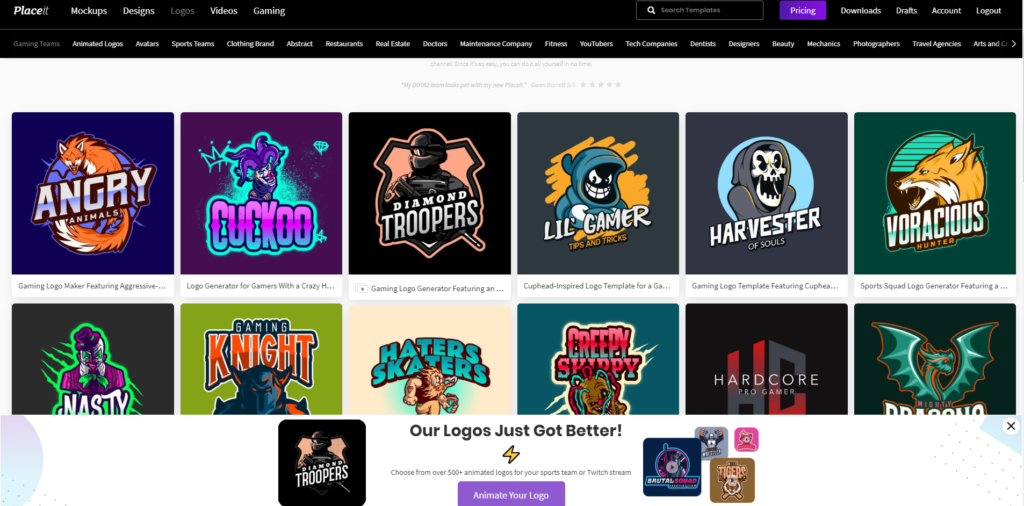 In fact, you can create an account for free and create anything right away. The trick is that you will have to pay for downloading your design.
I will let you know a few tips here.
You have 2 ways to pay for your designs, or you pay every time you create something new, or you take a monthly plan at $14.95 to have unlimited downloads…
The fact is that it will be way cheaper to get the monthly plan, as long as you only stay one month.
Indeed, I suggest you to take a 1-month plan (as of today you are not engaged if you purchase the monthly plan so you can leave with no additional cost, I invite you to check by yourself though) and create as many designs as you need for your in-stream overlays but also for your banners on Twitch, Instagram, YouTube, etc.
When you're done, just leave!
This will allow you to have a professional-looking stream to promote on other channels.
Now let's see these other channels to promote your stream!
How to grow on Twitch with YouTube
The most obvious one yet still underused by many small streamers. Why? Because they don't know how to upload a good-looking video and how to use SEO (Search Engine Optimization).
Also, you need to understand that uploading your videos on YouTube will bring continuous people to your stream as your videos will never disappear (as long as YouTube exists I guess!). The more videos, the more ways to be found by people interested in your content.
First, let's talk about the video itself. if you pay attention to videos of some streamers that publish their replays on YouTube, they always start with a highlight of what will happen later in the video. This is the hook. You want to grab the attention of the viewer, right away! It is usually 10 seconds to 1 minute. Feel free to decide what is the best for the game or the live stream you are doing.
I usually noticed 2 main ways to create videos: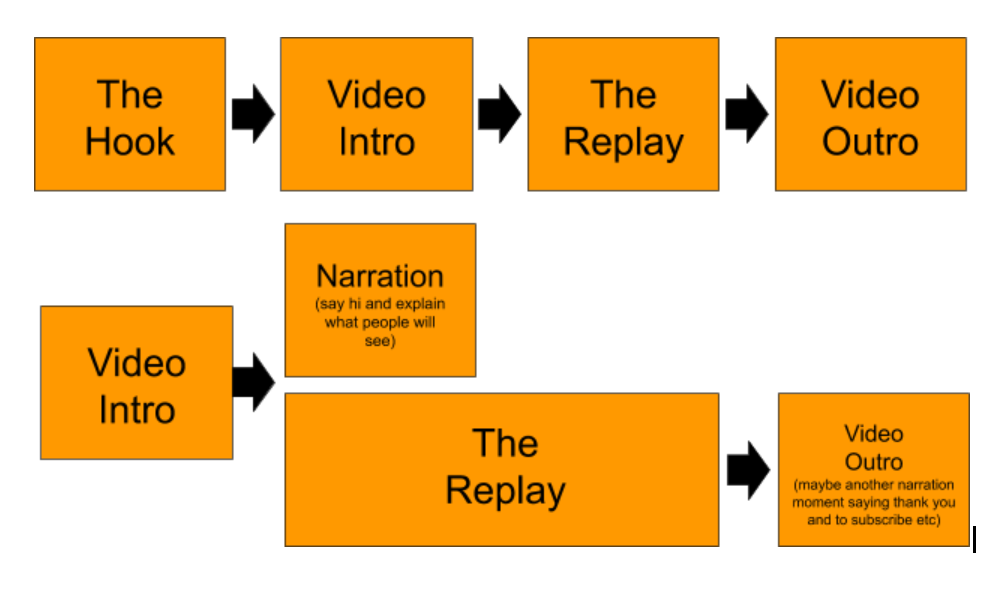 The first version with the hook is the most common one as you will show a crazy moment that will happen later in order to keep the viewer interested. Then you play your cool intro video, the replay starts, and then the outro with your channel and different social network accounts.
The second version is probably better to explain the context. You were struggling or you were discovering a new area then something great happened…
In this scenario, you present a context and you become the hook!
For example, people streaming games that always look more or less the same each game like Fortnite, Apex Legends, Heartstone, etc are probably better explaining what was happening that lead to something unique later in the video.
Important: This kind of game doesn't need you to upload the full 4-hour stream you did, no one cares. You need to take the best part and explain why it was great/terrible/unexpected…
Example: "Hi everyone this is Krows Digital, little video from our last Thursday night stream where we have been losing all night (let's say we are playing Apex Legends)… Terrible night. I was going to call it a day as during this last game, I was the only one left alive but the unexpected happened… Enjoy the show and don't forget to subscribe to the channel, cheers!"
As simple as that.
For other types of games like solo games, I'm sure you know how "Let's Play" works. Try to cut your stream into many parts (around 1-hour each ideally), show a highlight at the beginning (the hook), the intro video then let the replay do its magic!
These are the standard ways of doing professional-looking replay videos.
Video Edition
By the way, do you know how to edit your videos? You will definitely need a video editing software like Adobe Premiere Pro to create your videos.
Sadly, Adobe Premiere Pro is quite expensive so if you have it, that is great if you don't, you actually have a free software that is actually great, in my opinion, as good as Premiere Pro!
Introducing DaVinci Resolve 16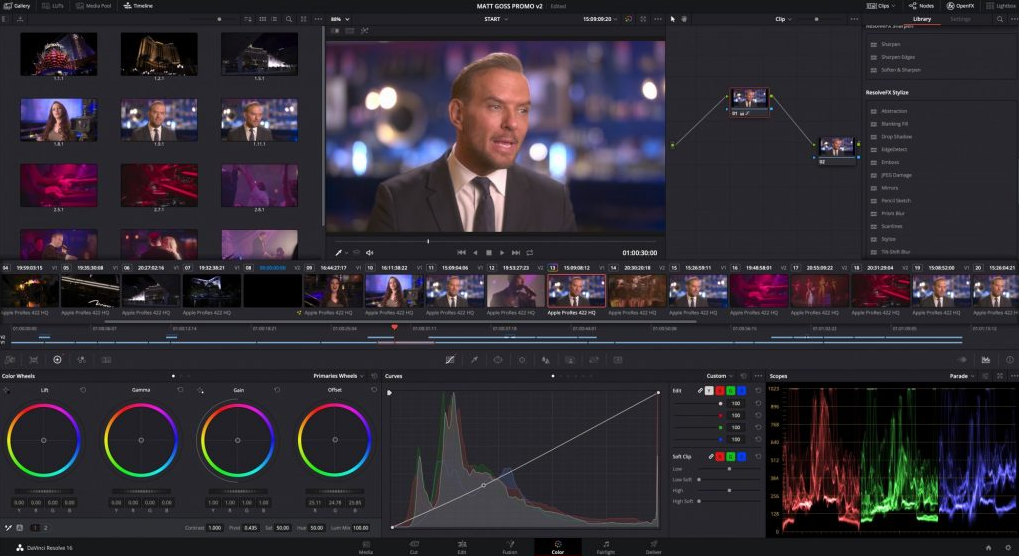 Created by Blackmagic, an Australian digital cinema company, Resolve 16 is a direct competitor to Premiere Pro. Not a lower version or a cheap rip-off, not a serious competitor!
The fact is that the software is free because it is a way for Blackmagic to promote their main products: professional (and really expensive) cameras.
This is actually what our founder is using when he is geeking on video edition…

So, if you don't have any editing software (and even if you have!), we recommend you to use Resolve 16 that you can find here: https://www.blackmagicdesign.com/products/davinciresolve/
Don't care about the Pro version, it will only allow you to work with teammates and add complex elements (things you definitely don't need…).
To learn more on how to use this software:
We couldn't explain better than Bai on this video, go check it to learn how to use the software correctly.
Now you have a nice-looking video, time to upload it on YouTube!
SEO on YouTube
Now we will talk about Search Engine Optimization (SEO)… Don't be scared. You have entered into marketing territory but it is not as bad as it seems!
When we talk about SEO, we actually mean to use the best keywords on your title, tags, and description to fit searches made on YouTube by your potential future viewers.
Your objective here is to be on top of people's searches while browsing YouTube. For this, you will need to find the best keywords & long-tail keywords to use on your title & description.
2 missions:
Find the most used search terms related to your content.
Create the best title and description to fit these search terms.
Part 1. Let's find keywords
Many tricks here to find the best keywords for your content. Let's list the best ways!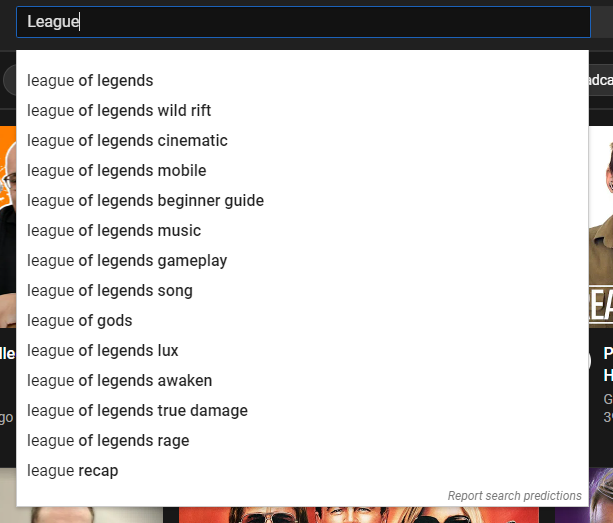 Start typing your content or something related to it on YouTube and keep note of YouTube's suggestions. It means they are well searched at the moment so you should aim for these.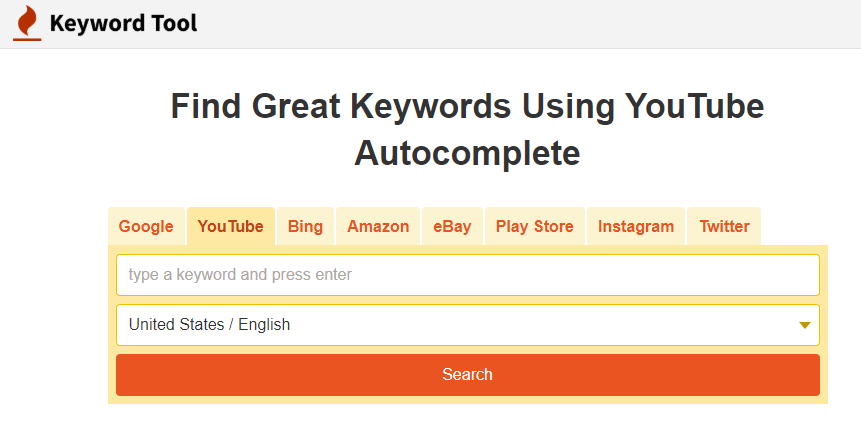 This website is quite useful to search related keywords based on your own keyword and the language you have selected.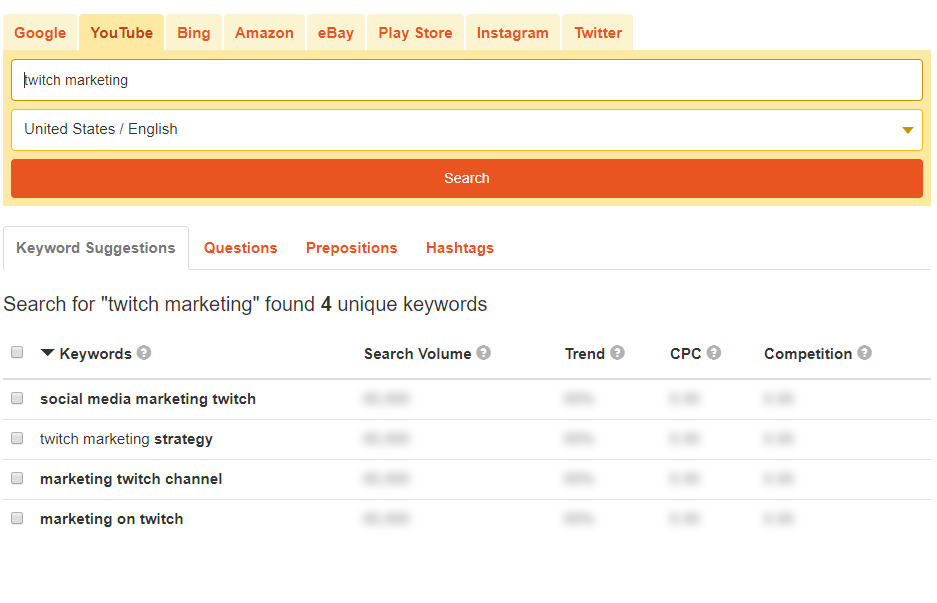 You will see a limited amount of keywords in the Free version but it will definitely lead you in the right direction.
Obviously, the best source can be your own competitors! Search for the most successful videos in your category. read the title and the description and try to figure out what keywords they are trying to rank for.
You will also see the tags they are using, high value!
Another tool that will give you a score for keywords. Only negative point: it focuses on the US market.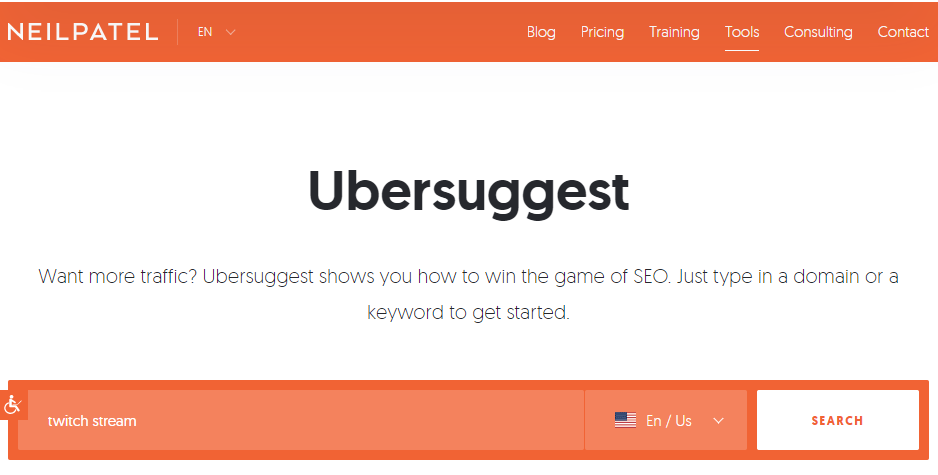 Nothing related to Uber! Here we are in Neil Patel, one of the big marketing gurus outside (but at least a good one!). Ubersuggest will allow you to look for search terms (Google focused but still useful for you) and see how much people have searched for a keyword in a month.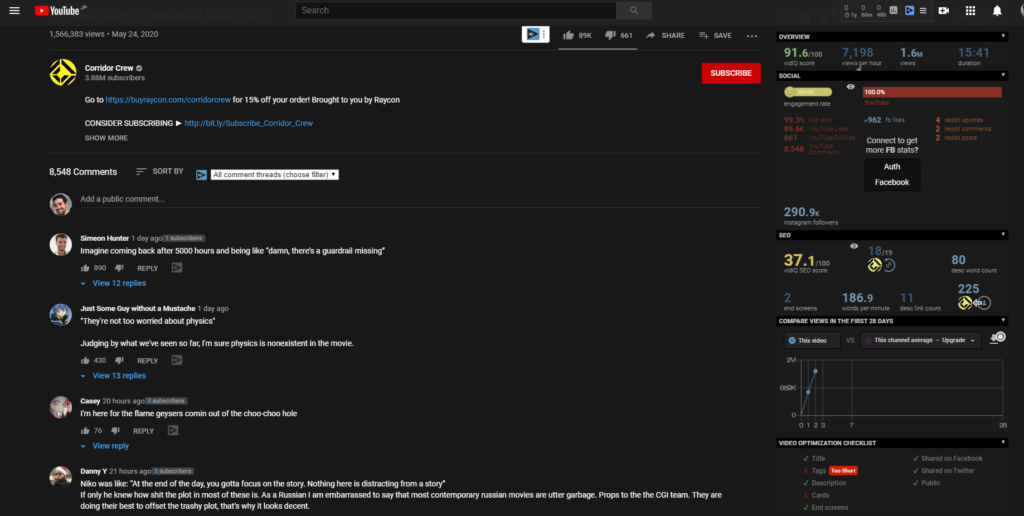 Ahh VidIQ, probably my favorite tool here. This is a chrome extension that you can use for free that will give you a lot of information on any videos:
how well optimized
tags used
the average number of views per hour
engagement rate
etc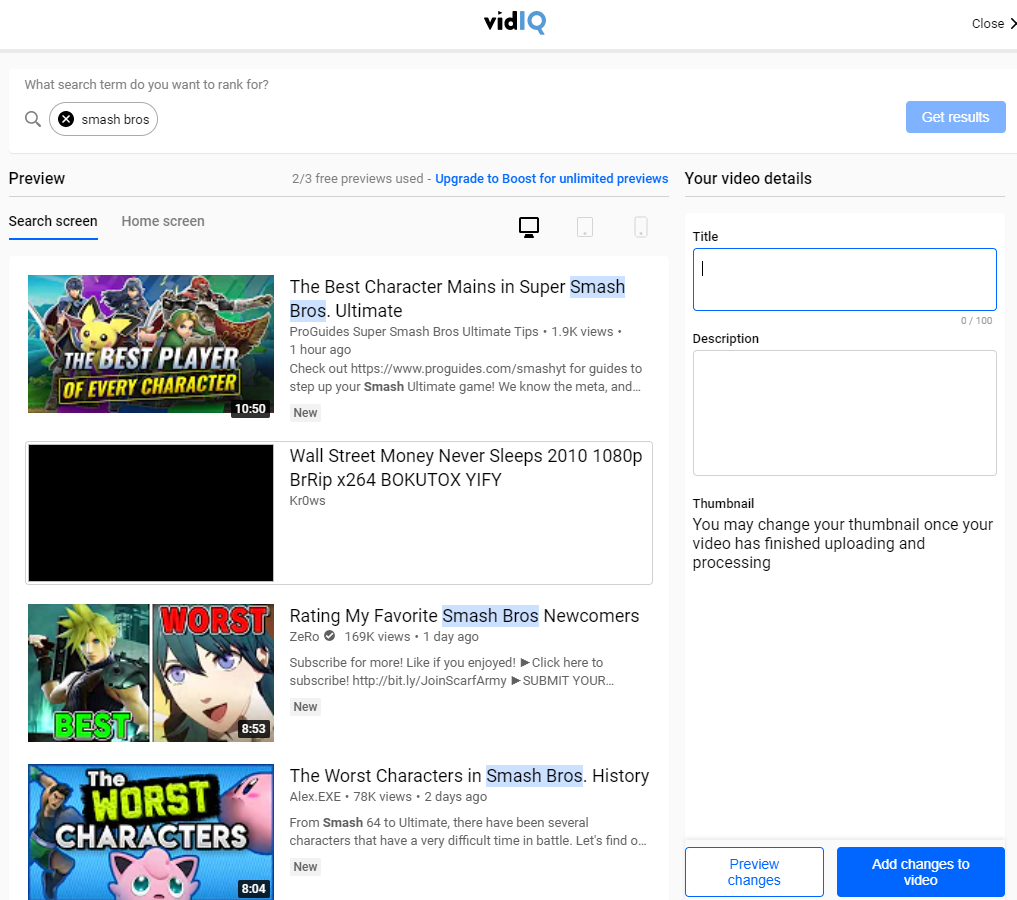 When you are uploading a video, you can request some suggestions and VidIQ will show you popular videos in the same category.
And if you go for the Pro version you will have all the best tags to work with (score & competition rate):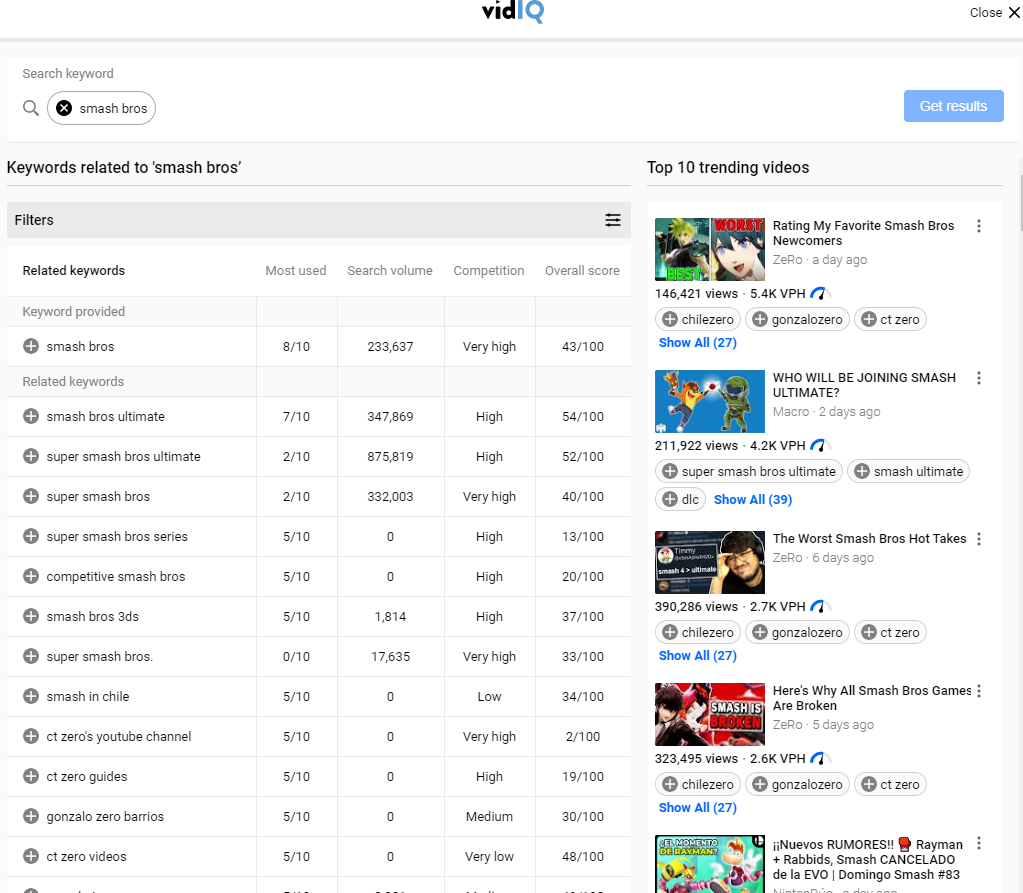 Up to you if you think it is worth $10 per month. I'll say it is if you plan to upload many videos in different categories.
Part 2. Title, description & tags
Time to write your title!
I will be straightforward here:
Don't spam keywords in your title and description!
It will not be helpful at all, YouTube doesn't like spammers so you will just hurt the visibility of your videos.
Respect these rules and your videos should be doing fine:
Use one search term and use it on your title. e.g. "Smash Bros online" ==> Title: Smash Bros Online: our worst matchups!
Keep your title as short as possible, the longest, the worst.
Put your keyword somewhere in the first paragraph of your description.
Use the tags to add all the keywords related to your content.
Don't forget to check the way your best competitors work with the same keywords.
Put some links to your other social channels.
Comment what the video is about (sadly the description is hard to read compared to the first comment…).
If you can, try to motivate people to comment on your videos. Comments are more powerful than likes to get visibility.
Answer as many comments as you can.
And of course, don't forget to work on outstanding thumbnails for your channel! You can use Canva to create these thumbnails (keep a similar design, get inspired by top YouTubers).
Don't forget that YouTube is powerful but this is a long game. You will need to post new videos on a regular basis to have YouTube improve your visibility.
It is also strongly recommended to share your videos on Twitter and Facebook.
Let's move on to the next social media!
How to grow on Twitch with Facebook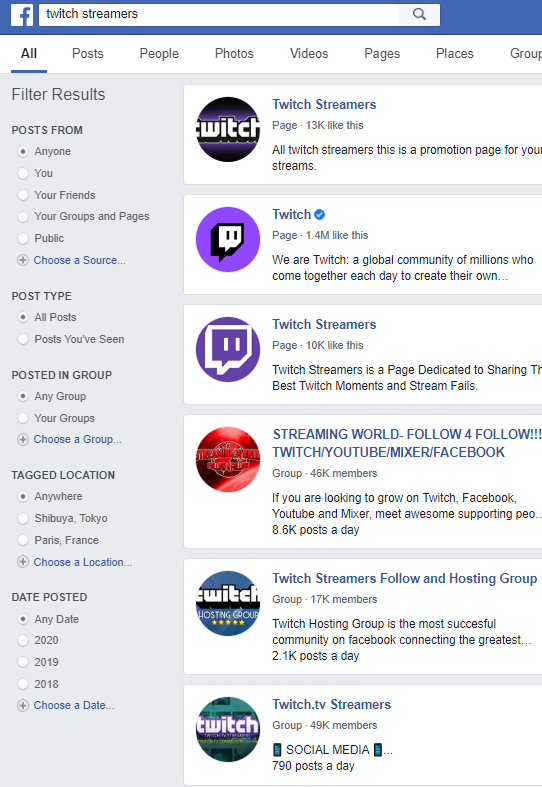 You can create a Facebook page where you should probably share the time you are going live, links to your Youtube videos, and links to your posts on Instagram.
More than all of this, the real reason to use Facebook is:
Facebook Groups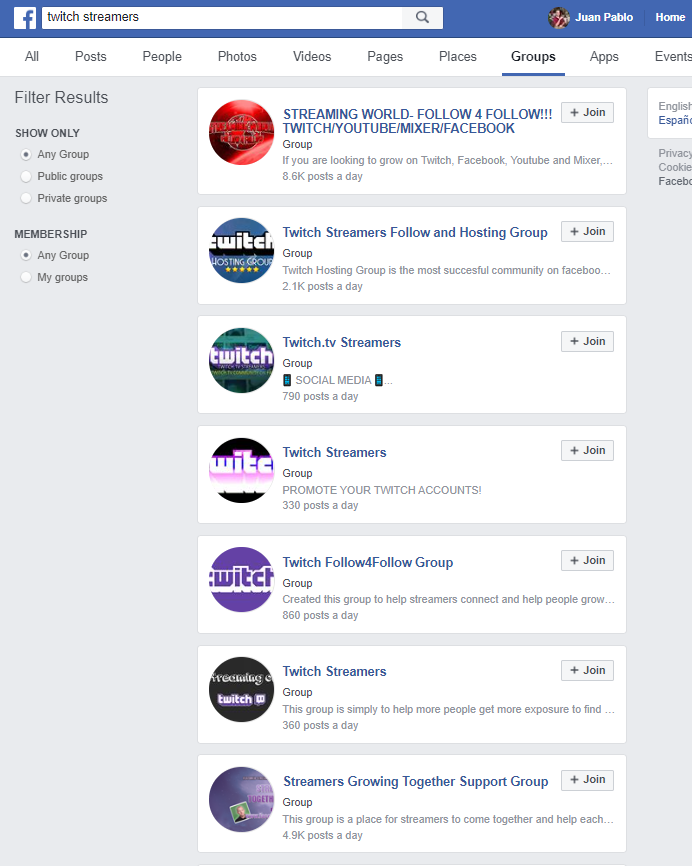 Start to join groups related to your category.
Read the Admin rules or ask the moderator if it is fine to share links to your Twitch channel and/or Youtube videos.
==> Try to find groups that are engaging. You definitely don't want to waste time sharing your content on groups that are dead…
Also, try to add value. Don't be just spamming your links, commenting on other people's videos & links, debating… Be real!
No one will follow you if you are just spamming like a robot so try to engage and people will soon engage with you.
Finally, remember that the biggest groups are not always the best groups. As written previously, engagement (likes, shares & comments) is the most important thing to seek in a Facebook group.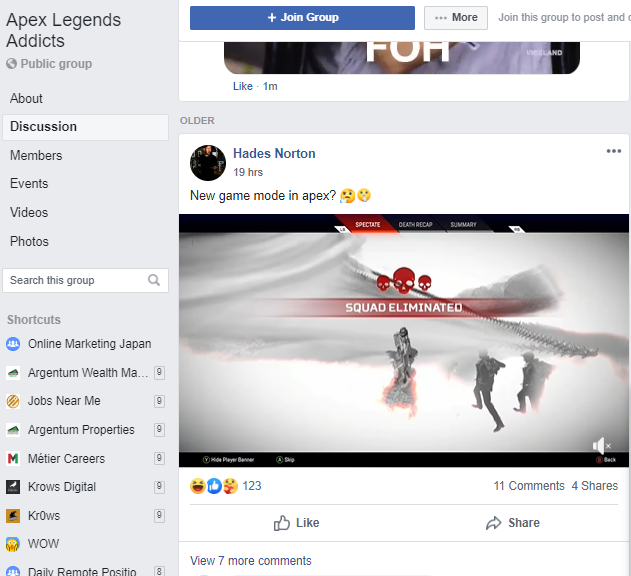 How to grow on Twitch with Instagram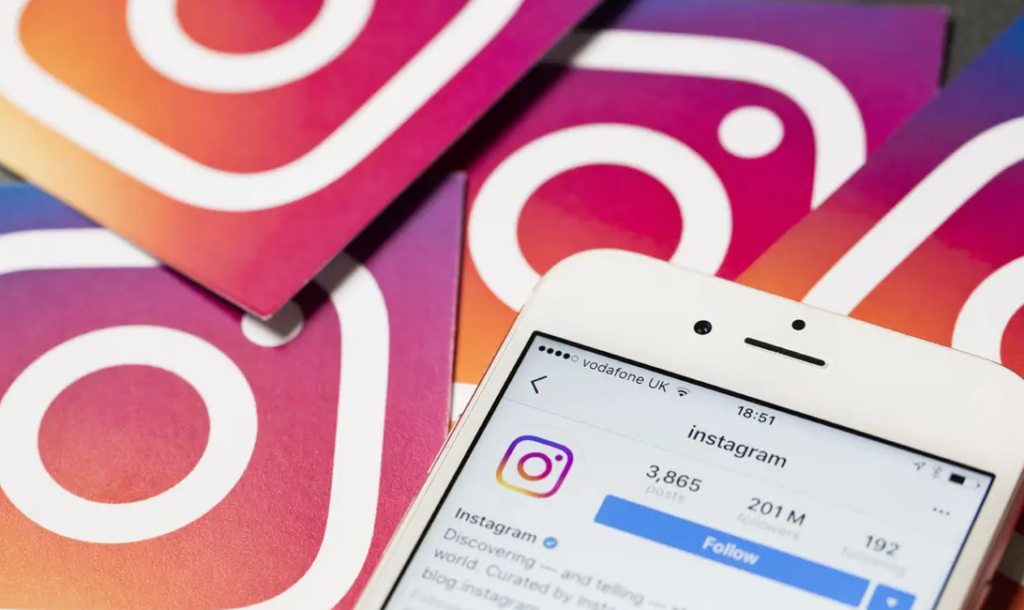 One of the hardest yet most powerful ways to increase the visibility of your Twitch channel. Let's face it, it is not as simple as some years ago to grow on Instagram.
Nonetheless, if you can succeed in getting a loyal following, your Twitch channel should grow as well!
Let's split into different sections what can be done.
Hashtags
Instagram is not what it is nowadays without its hashtags! Be aware that it is recommended for each post to use 10 to 20 hashtags (max. 30).
Ideally, you will need to figure out the best ones that are relevant to your type of content.
Don't think about what you like but what your audience would be searching for.

For example, if you stream content related to League of Legends, tagging hashtags like #twitchgaming might be fine but don't forget that your audience is looking for content about LoL, not about you directly! So the #leagueoflegends seems to be a better choice to show your post to your audience.
Pay also attention to the related hashtags. It simply means that people searching for this hashtag are also searching for these other hashtags. Certainly worth checking and taking note of the good ones to use later.
Finally, when it will be time to use hashtags on your post, I will suggest you go for a mix of hashtags:
hashtags with 1M+ posts: the bigger ones but also the hardest to rank for
hashtags between 100K & 1M posts: are the most common ones you should use, they are popular but not saturated yet.
hashtags under 100K posts: easier to rank for but low reach.
A mix of these 3 types of hashtags will assure you to be present at every level. The small ones can help you rank later on the bigger ones.
The fact is that you will always have the same chance, like anyone else, to rank in the recent section of a hashtag but what will bring you the most visitors will be the top section, the best of the best.
Another place that will make you explode in terms of visibility is the Explore section of Instagram. Here, Instagram will only suggest to people what the algorithm thinks is the best for them. The more you improve and engage inside your niche the more chances you have to appear on the explore page (it takes time though, be aware of that).
In any case, you will need to start with the best keywords, to begin with. You can start searching for hashtags and related hashtags, the way I suggested earlier or you can use tools like All Hashtag

You can type your keyword in the hashtag generator and you will have a suggestion of the best 30 hashtags related to your keyword! You can select to focus on the top ones, the most active at the moments with live, or randomly select hashtags between live and top.
And this tool is fully free so don't hesitate to make good use of it.
Posts
Update 2022: Go for Reels, posts are dead in regards to Organic Reach. Learn more in this more recent article about social media marketing trends.
Let's talk now about your core strategy: posts. Your posts need to convey multiple information:
who you are
what you do
why are you different
The fact is that many streamers will share the same exact post of them winning Fortnite. How exciting…
If you want to succeed in streaming, you need to be special in a way like:
funny
angry
the best
engaging a lot with your community
knowledgeable
Find what makes you special and promote it on your daily posts.
And yes, you will need to post, ideally, once or twice a day to get visibility.
If you can't, at least try to be regular on your postings. Nothing worst than someone posting 10 posts a day in a row and then will disappear for a month…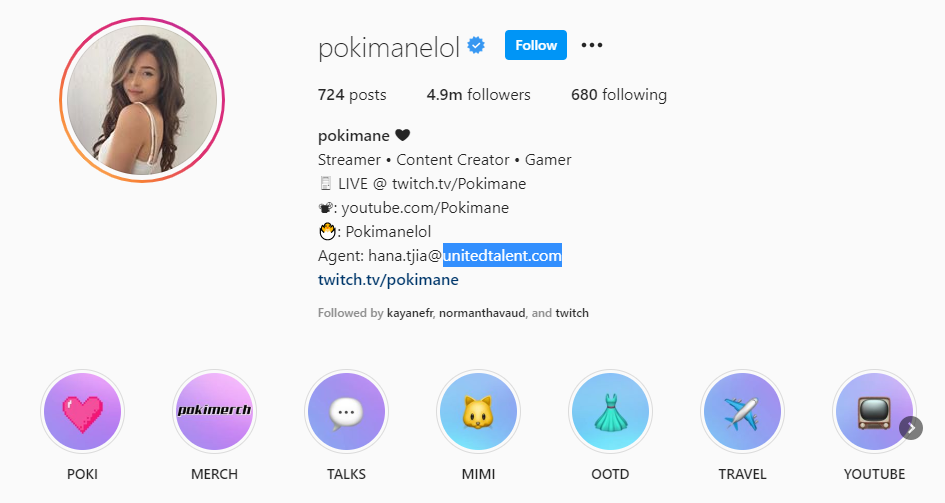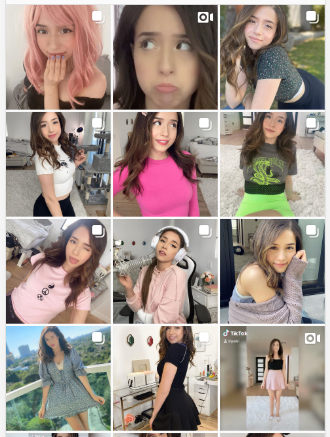 Apologies if you are no big fan of Pokimane but her Instagram is a great example of good behavior on the platform.
Notice how you can easily recognize her style with the pastel colors used on her stories' icons and the same chill vibe you can feel on each post.
This is branding. People following her know what to expect when they visit her page.
Your followers should feel the same. Give them what they should expect from you, brand yourself as something you believe in (funny pictures, trivia, performance clips, polls…), and stay with it. Of course, you can change the type of posts once in a while but your main posts should always be, more or less, of the same kind.
Stories
Stories are a big part of how to grow on Twitch. No stories, no visibility. You will need to play with your stories as much as your posts. They can actually bring you more visibility than you can think.
Stories' length is 15 seconds. You can share a short video or a picture with different messages.
They are quite useful for:
telling your followers that you are starting your Livestream now
presenting behind the scenes pictures or footage
more personal stuff or exclusive content
You can also add up to 10 hashtags to give your stories visibility as well.
(little grey hat tips: you can type 10 hashtags, make them super small and hide them on a background with the same color…)
Even though your stories should disappear after 24 hours, you can save them as collections on top of your profile.
Indeed, when you have some stories that are similar, you can group them as Pokimane did in the previous picture.
For example, if you play multiple games, you can have different stories collections focused on each game so people interested in a specific game will easily find your content.
Bonus: if your account becomes verified (Instagram recognizes you as a public figure) or you have more than 10,000 followers, you will be able to add external links to your stories!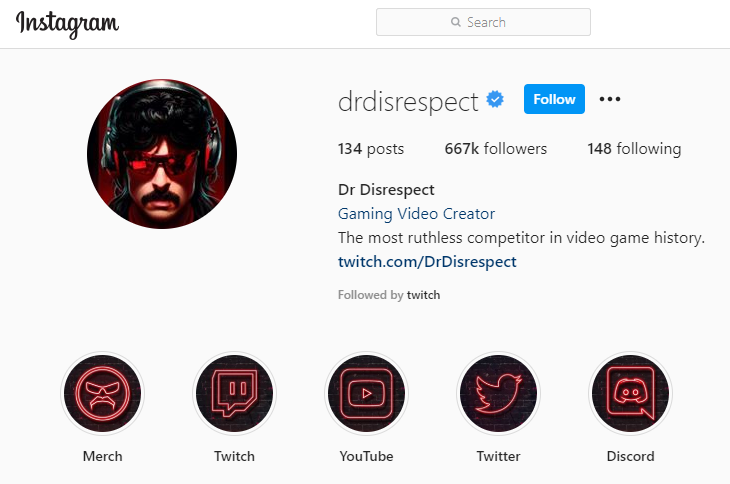 In this picture, you can see that the doc uses his stories as links to his different social media and merch website… Genius!
Finally, don't forget that when you publish a story, you can share it with your followers and some followers! Don't hesitate to do so whenever you think your story is relevant to some people or it is time for your new live stream (just don't spam people…).
Engagement
"Nice pic bro👍", "This pic is 🔥"… these comments are crap, don't do that. Everyone knows they are fake. Instead, take 15 minutes per day to scroll in your related hashtags, search for content from people interested in the same kind of content and start commenting on their posts.
You need to start developing a relationship with people interested in what you have to propose.
It will take time but it will pay, just be constant and patient.
Ah! And follow-for-follow hashtags are the worst, you will have likes but 0 comments, no one to comment on your posts, and Instagram will only suggest your posts to other #followforfollow accounts instead of people who could have been really interested in your content…
How to grow on Twitch with Twitter
Ahh Twitter, this seems to be the place for hate and harassment! Well, it is but it is also a great place to share with your existing audience.
Twitter is the best place to:
announce your Live stream start
say what you have on your mind (things that are not "big" enough to be a Facebook post for example)
ask your community questions (with a poll for example) about anything like which game to play next
Like stories, present some behind the scenes trivia or pictures
Share your YouTube videos
As you can understand, Twitter is great to keep engaging with your existing audience. You can definitely grow an audience there but it will be certainly more difficult than the other platforms.
Nonetheless, you can still grow with some methods.
Twitter Chats
People share their opinion on Twitter. This is why you can find Twitter chats, places where people discuss a specific topic, all hosted by a Twitter account throwing a question and people directly replying to this question.
You can try to find if your target audience is already discussing your topic, join the discussion and then start your own discussions!
Of course, don't be too obvious selling, and don't talk all the time about your channel… Bring value.
Twitter Polls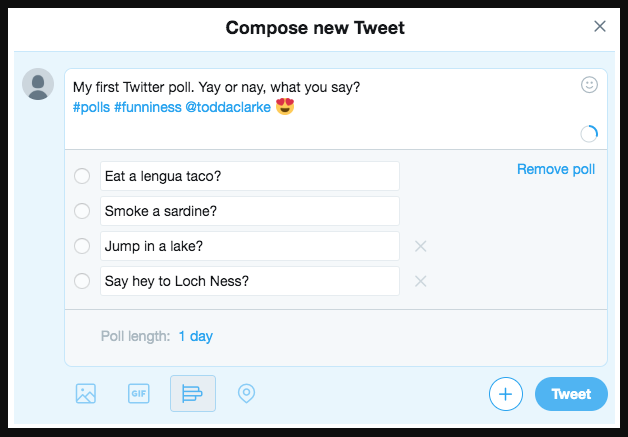 How to know what your audience wants to see from you? Just ask them!
Polls are a great way to engage with your community and ask anything related to your niche that will have people to talk about.
You can keep a poll open for a day or more, up to you. Just pin the poll on top of your feed so it will remain visible for the duration of the poll.
Ask your audience to share your poll to have more responses and for you, to have more visibility.
Videos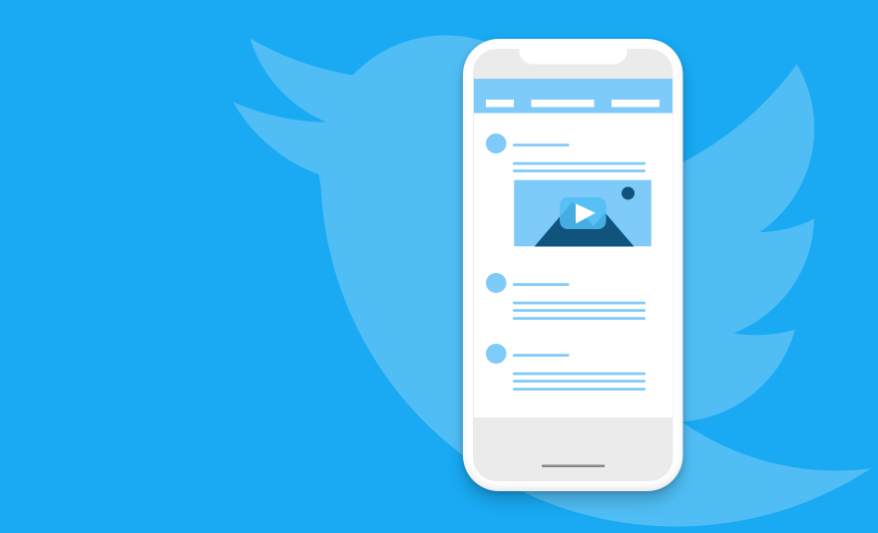 Did you know that Twitter allows you to embed videos of about 2.30 min?
You can do long videos but the best is certainly to do short videos telling your audience you go live, show behind the scenes, etc.
You can also use live videos to engage with your audience when you are out of Twitch.
Twitter is all about discussions. So ask and answer a lot of questions!
Conclusion
I could have talked about Tik Tok (we did now!) or Periscope (just kidding) but I believe I presented you with all the weapons you need to promote organically your Twitch channel.
Once again, I want to remind you that the path to Twitch Partner is a really long & frustrating road.
How to grow on Twitch really differs from one streamer to another but I believe we conveyed the most important aspects in this article.
You will sometimes feel that you are doing it for nothing but if you are serious about it you should always keep it going.
Generating a decent income from your live stream is hard and it requires dedication.
If you are struggling, try to figure out what you are doing wrong and fix it.
Don't hesitate to come back to this article if you think you have forgotten something.
Also, if you need to go the extra mile, you can book a 1-hour session with one of our marketing consultants that can help you figure out what is wrong with your channel and/or ways to improve it.
We can help you in French, English & Spanish so don't hesitate!
Good luck and good stream!